Termite Inspections in the Kansas City Area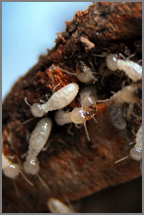 Professional termite inspections are necessary because termites do not live where we can easily see them. Subterranean termites are the most prevalent type of termite in the USA. They live in underground nests, getting moisture from the soil and eating cellulose which they find in plant matter and in wood. This is why they can often be found in any wooden structure that is close to the ground. A full termite inspection will be able to discover any subterranean termite infestation you may have in your Kansas City home. This is a big concern for homeowners. Once termites infect a structure, they can eventually lead to the building damage. However, your home is not in immediate danger. It will not fall down in just one day. Left untreated, though, termites can cause serious damage over time so it is worth being careful and having a full termite inspection of your home.

What does a termite inspection entail?
A
termite inspection
is a visual inspection of the easily accessible areas of a home for evidence of damage done by wood-destroying insects or wood-destroying organisms. The inspector will visually inspect the interior of a home (including accessing and entering any sub-space such as a crawlspace and basement) and exterior of the property. In areas outside of Kansas City where drywood termites are prevalent, and in houses where there are no sub-areas, the attic may also be accessed and inspected.
How long does a termite inspection take?
The average termite or pest inspection takes approximately 25 to 40 minutes for a good inspection, depending on the size and conditions (e.g. clutter; storage of personal items, etc.) of the home and property.
Could there be hidden termite damage?
One of the main characteristics of termites and termite colonies is their tendency to avoid open air and bright lights, meaning they will stay underground or within wood products. It is almost impossible for an inspector to visually identify or locate an active termite infestation just by looking at the finished surface of a wall or the nearby trim. There are many inaccessible areas of a home and our inspectors will do their best to uncover any hidden infestation.