The Best Pest Control in Overland Park, KS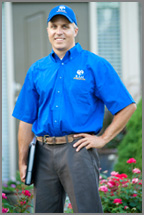 Getting good pest control service in Overland Park, KS is something that people take for granted. Many times people will just call a exterminator that has the cheapest service or for a deal that they found online that seems too good to be true. Often times these pest control companies just use a minimal amount of chemicals and the termites or pest come back too soon. Ram Exterminators of Kansas City does not operate in this way. Our technicians are skillfully trained to know what methods are best for your size of home. We are so confident in our termite treatment methods that we offer up to a
5 Year Termite Guarantee
that your termites will not be back!
Expect More From Your Exterminator
Getting rid of termites, bugs, spiders, mice, and other pests in your Overland Park, KS home takes the skills of a real professional pest control company using time-tested methods of pest control. Ram Exterminators has over 25 years of experience getting rid of termites and pests in your home or office. Our #1 goal is to keep your home safe from unwanted pests. We take pride in the fact that our inspections are some of the most thorough in the termite business. We come out to your home on time and ready to help you with any of your pest control needs. Our pest control reputation for Overland Park and Kansas City is on the line.
Termite Inspections
Termite inspections in the Overland Park area require a skillfully trained technician who knows exactly what he is looking for. We always carry tools of the trade and a great flashlight to see exen the slightest hint of a termite infestation. Once we finish our termite inspection, you can rest easy that your house was thoroughly examined for all signs of termites and pests. If we spot anything at all, we will carefully explain all of the treatment options that you have so that you can make a sound decision to protect your home.
Termite Treatments
Termite treatments in the Overland Park, KS area can be different depending on the type of the structure. Our first focus is to completely exterminate every termite that you currently have. We then create a barrier around your home so that termites do not come back. We are so confident in our termite treatments that we offer up to a
5-Year Termite Guarantee
. That's right, no termites in your home for up to 5 years!!
Finding a pest control company in Overland Park is easy. Finding a pest control company that you
CAN TRUST
can take a long time. But not if you listen to what everyone in Overland Park and Kansas City is talking about. Ram Exterminators is a clean and friendly pest control company that gets the job done right the first time. We are true experts in the business of pest control and extermination, as we have over 25 years of experience. We offer both residential and commercial services. Not only do people trust us to guard their homes from pests, but they also trust us to guard their businesses as well.
For a pest control company that you can trust, call Ram Exterminators today!